Video | Audio | Lighting | Computers
Video
DSLRs

I have worked with video cameras for a decade now, and stepping up to a DSLR was natural step in that process. The DSLR is one of my most versatile tools, and one I know inside and out. I primarily shoot with my own Canon t4i, but have used quite a few Nikon models. I know camera properties, shutter speed, aperture, ISO and white balance incredibly in-depth, and have worked with all sorts of combinations. One of my favorite things to create is time lapses. I love blending the world and time together through motion, using things like a remote shutter, a good view, and proper editing. I've also worked with higher-quality Canon cameras, such as the Cinema EOS C100, though not as extensively.
---
GoPros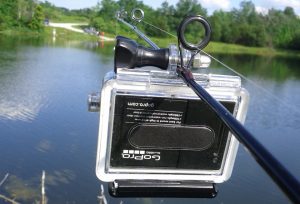 I've worked with wearable video cameras, namely GoPros, since 2011 when I bought a HERO model 1. I later upgraded to the HERO3, and have mounted the cameras on all sorts of places. Basketball backboards, football goal posts, skateboards, marching band members, puppies, you name it. I also love utilizing their endurance to get interesting shots, such as throwing it stories into a pool, flying it through the air, or hitting it with a tennis racket. Because of its size and versatility, it is overall one of my favorite cameras to work with.
---
DJI Phantom Drones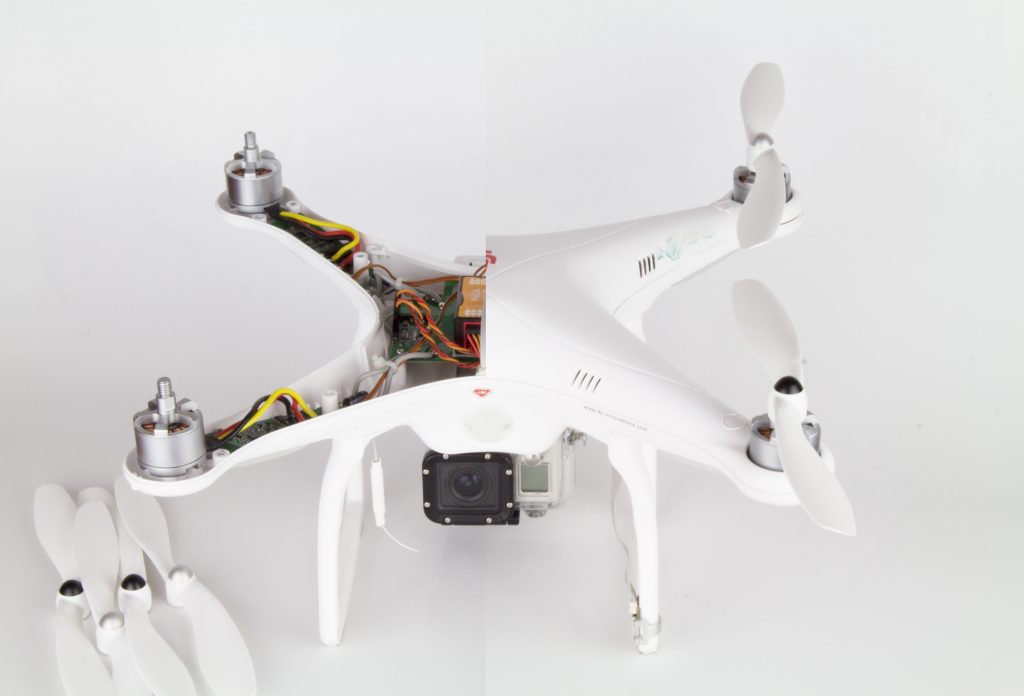 A bird's-eye view is something I was always interested in. I even went so far as tying a camera to balloons back in 2009 to get cameras off the ground. In 2014, I bought a DJI Phantom model 1 with a GoPro mount, after being interested in drones and the possibilities of arial views. Granted, I am an amateur pilot, however I have studied FAA laws because this is one of the most interesting methods of capturing video I think I've ever worked with.
---
360 Cameras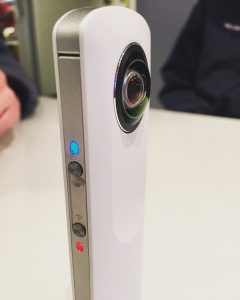 During the Spring of 2016, I got to play with a budding technology, 360 video. In our class about virtual reality storytelling, I learned the basics of setup, framing and the benefit of using these types of cameras. This specific model, the Ricoh Theta is what we used for our projects.
---
RED Cinema Cameras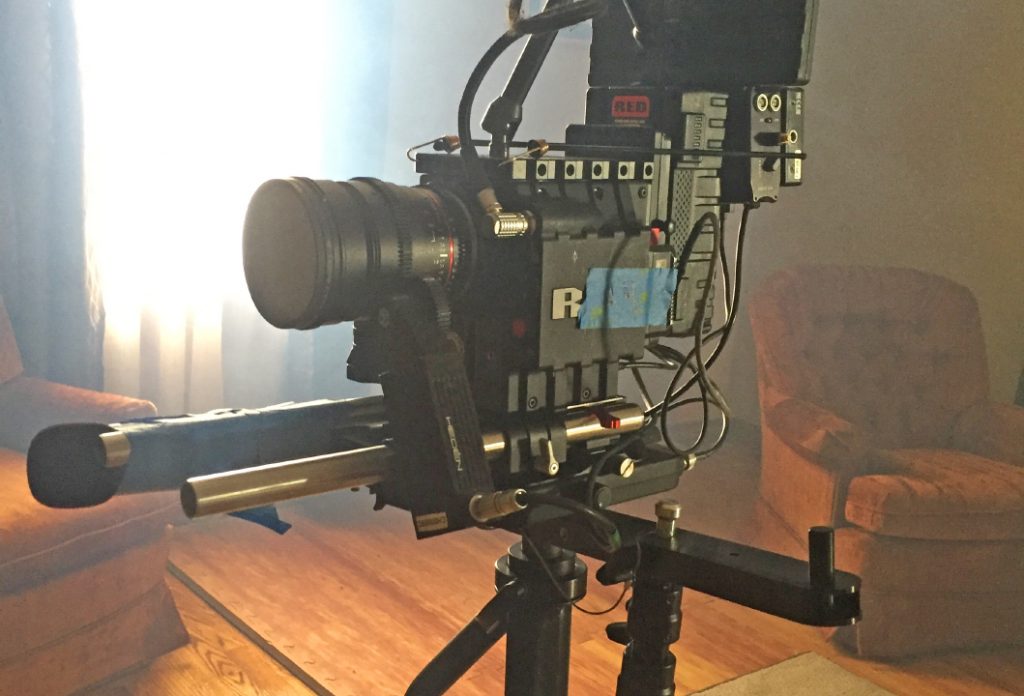 As part of my workload during my internships in 2016, I got to work and learn about a much more professional (and expensive!) camera than I have ever worked with before. We shot using the Red Scarlet Dragon. Though only for a few scenes, I learned how to work the basic settings in our bootcamp, and practiced pulling focus using wireless controls.
---
Mobile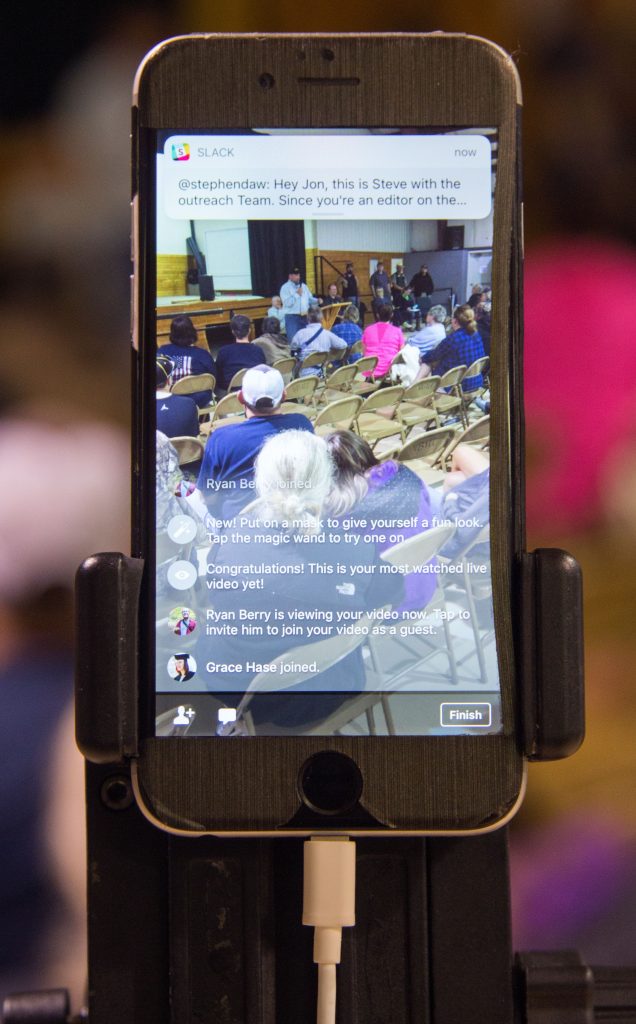 You can have a camera worth more than some cars, but if they take 15+ minutes to set up, sometimes an iPhone can work a lot better. In a trip to Van Buren, Missouri, in the spring of 2017, my team covered the flood damage of a town where they were still working on re-establishing power, water and internet to most of the town. My team and I were reliant on our phones for tweeting, Facebook Live-ing and transmitting some media back to the Missourian. We had our laptops for writing, video editing and photo ingesting, but we were heavily reliant on mobile workflows.
---
Audio
Studio mics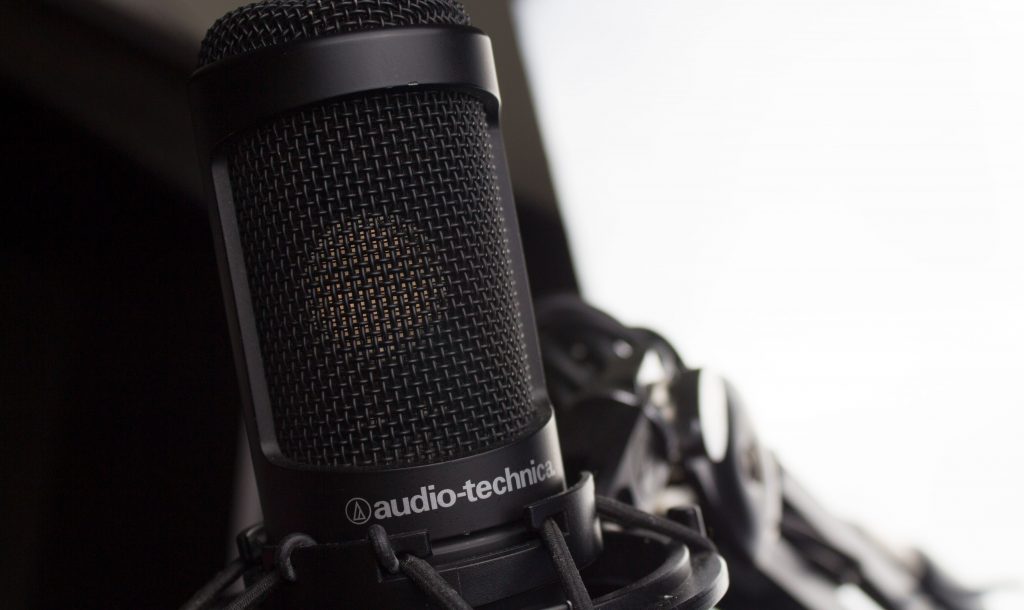 I wouldn't consider myself an audiophile, however I do have a decently wide range of microphones collected. I primarily use two condenser mics, the AT2035 and the MTR201, for capturing voice in my own videos. I have one of those mics hooked up through a pre-amp attached to the arm, and plugged in to my computer. I've also been sent microphones to review and use, by Samson Technologies.
---
Field mics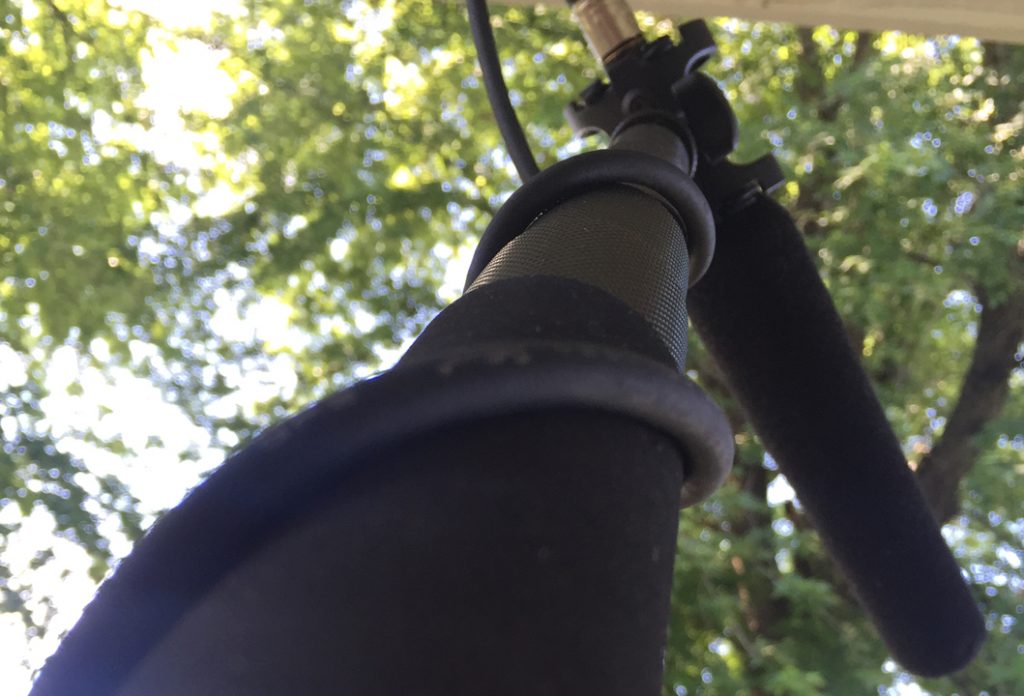 During my experience in field production classes, as well as internships in 2016, I learned and used a lot of shotgun mics. I've worked with these kind of mics on booms and in blimps, with some scenes even needing to be used under a rain machine.
---
Wireless mics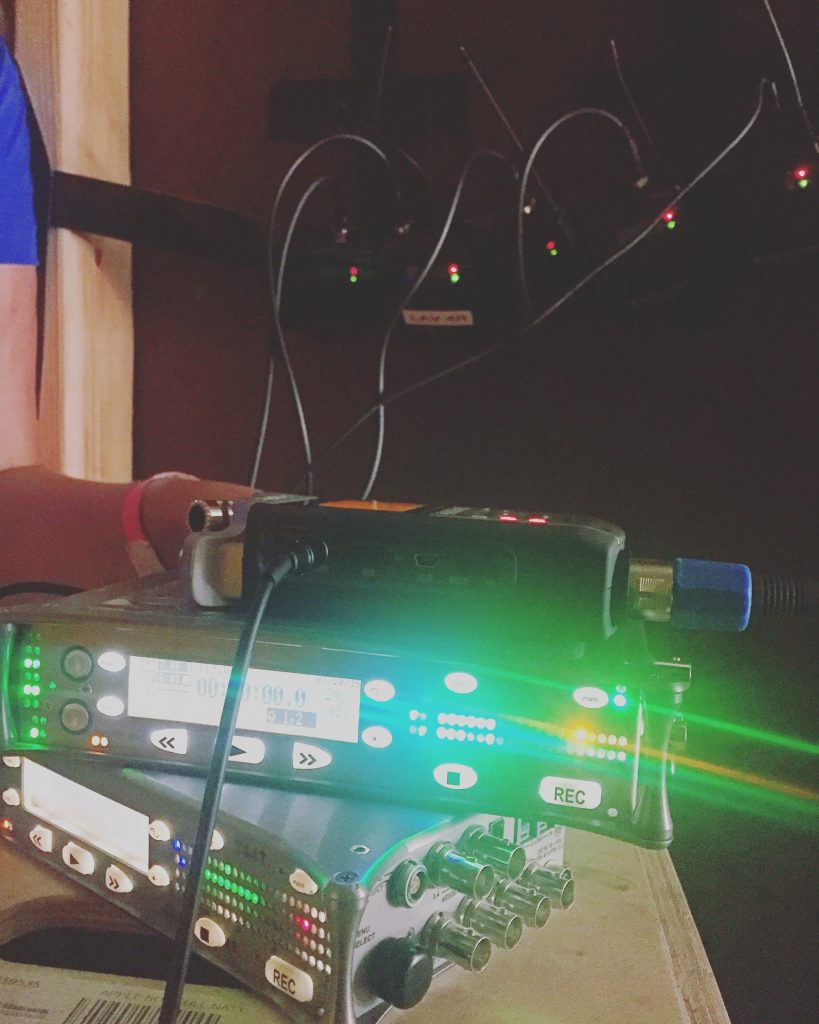 In both my film experience, as well as journalism work, plenty situations required wireless mics. On simpler shoots, I use a pre-amp and wireless mics to record in-camera. One of the more complicated scenes I've done (pictured above) utilized lavs for five actors. For that situation, we used three separate mixers to record and monitor each person individually.
---
Lighting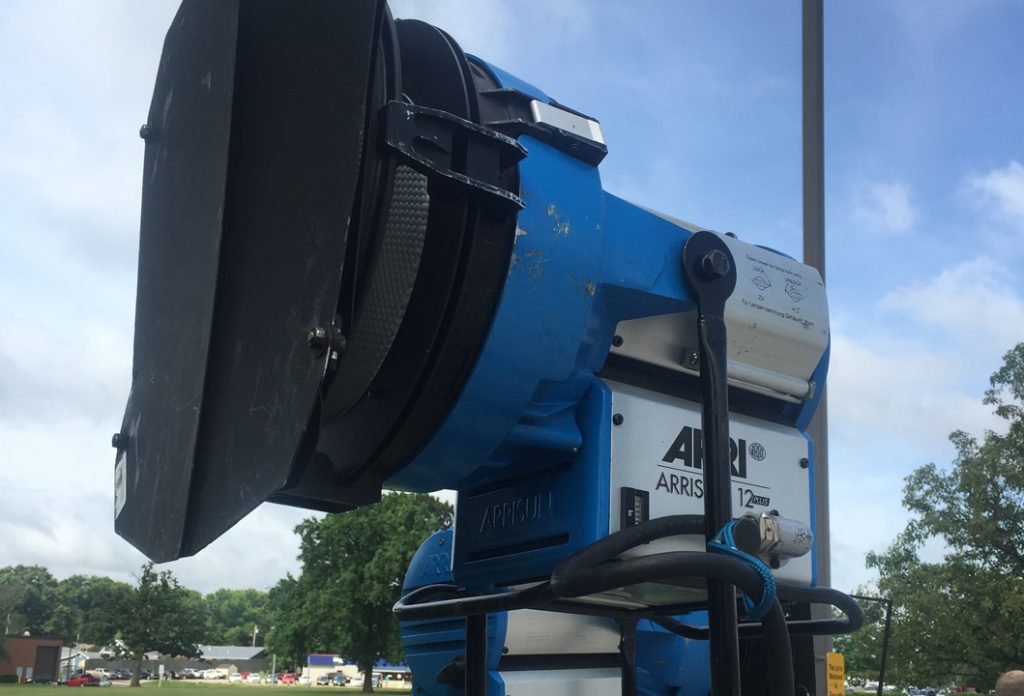 Starting in early 2016, I took my first steps into utilizing artificial light through the Arri lighting kits the Mizzou film department uses. I worked through the field production class learning and practicing techniques, then in my summer internship that same year I worked as a grip for a week, lighting professionally. As a result, I would consider myself somewhat knowledgeable in most of the equipment used in studios and sets.
I feel I'm still in progress learning my style, and properly being able to design and sculpt with lights, however I learn more and more every project. I even got myself a couple soft boxes, to improve videos I shoot around the house.
---
Computers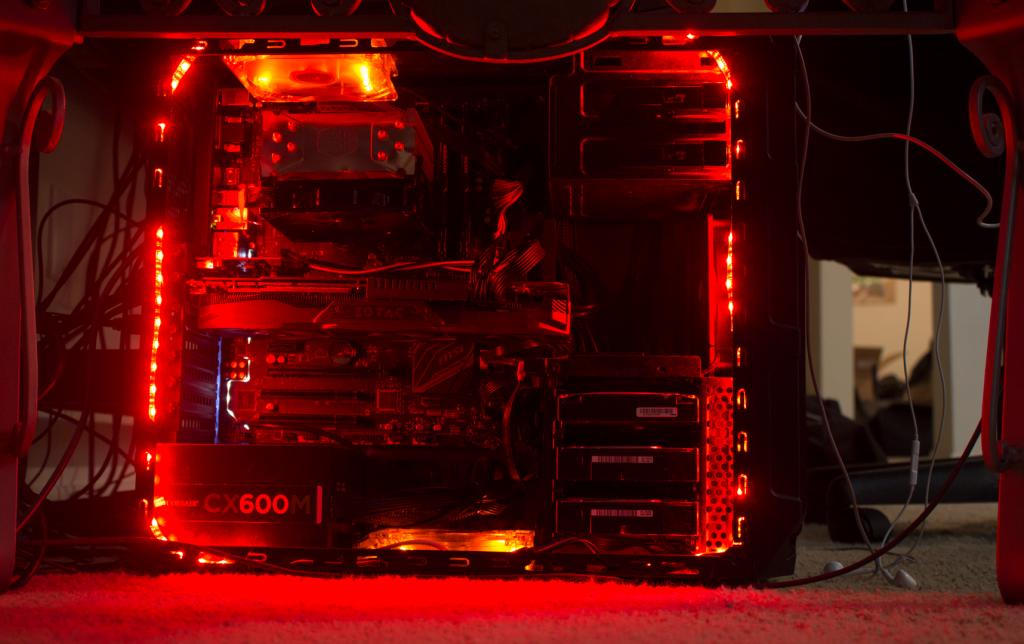 I list computers on here, because it is one of the most important tools in putting together videos. I've been a computer enthusiast for almost as long as I have shot video, and love building computers from scratch. In 2013, I built my first computer in my college dorm using carving tools when I had no screwdrivers. Even to this day, I add-on, upgrade, modify and maintain what has become one of my most prized possessions, and the primary storage and powerhouse for all of my work. You can see some of the work I've editing using my rig over on my post production section.